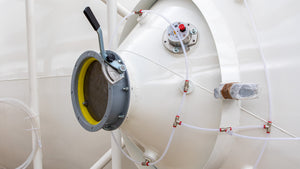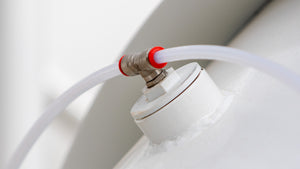 Aeration Pad
The I100 aeration pads are installed inside silos and hoppers in order to have a better flow of fine and dry powders such as cement and lime, help the creation of a smooth surface and have a low air consumption. Thanks to their semi-convex shape, air is given off with a wide emission angle over the entire surface and in this way it is possible to avoid holes and bridge formation.
The pads size is 98x166mm, they are equipped with a continuous pneumatic circuit working system, formed by a sintered PET filter with a PS body and the temperatures within which they can work range from -20° C to 80 ° C. The compressed air that feeds the aeration pads, connected to each other through the Rilsan pipe, needs special features: it must be clean, dehumidified and unlubricated. The pads are very easy to assemble, even in existing plants.
In the single row installation, the I100 fluidization pads are widely used for materials such as concrete. In more complex applications, where alternately fed rows are present, aeration pads are provided for lime storage and dosing plants, where fluidization is used not only during material discharging from the silo, but also to keep the material in motion during extended periods of storage. 
Our kits consist of a box with 6 aeration pads inside.