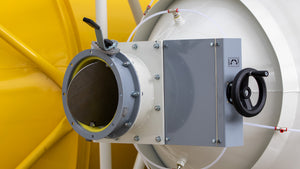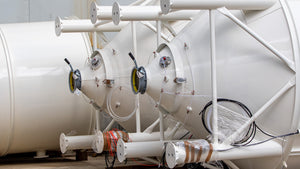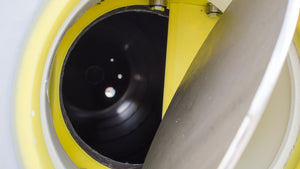 Silo Closure Butterfly Valve
The Silo Closure Butterfly Valve has four diameters sizes: ø250, ø300, ø500, ø600. It is built with a top and bottom section with a round flange.
The VFF type is manufactured from a one piece fabricated carbon steel body lined with SINT engineering polymer composite so as the disc shafts, whereas the valve disc is built from surface-treated carbon steel. Due to the four corner slots the integrated upper square flange can be adapted to different sizes of silo outlet flanges. The valve is not suitable for use with food, it is only dust-tight. Gear motor or pneumatic actuarors are provided, but the valve can operate only manually. Every week, check that the material passage area is free from deposits. The VFF type valves made of carbon steel are used as external support for the equipment installed below, such as screw conveyors and belt conveyors.
The valve must be closed while the material is flowing. The VFF valves are applied in all types of building material processing plants where interception of gravity-driven materials is required, beneath hoppers, bins and silos. Thanks to the material used and the design, they have been a particularly economic and efficient solution for many years. 
Silo Closure Butterfly Valve with manual actuator.
Silo Closure Butterfly Valve with pneumatic actuator: 
24 VDC 
24VAC  110-220v  50Hz 
24VAC  110-220v  60Hz
Silo Closure Butterfly Valve with gear motor actuator: