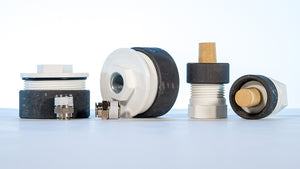 Aerator Nozzles
Aerator Nozzles: U025 and U060
The aerator nozzles are installed inside silos, hoppers and pipes in order to have a better flow of fine and dry powders such as cement and lime, help the creation of a smooth surface and have low air consumption.
They are used in many production sectors such as that of cement, plastic, animal feed, glass manufacturing and can be easily assembled or adapted to existing plants. An engineering polymer casing, co-moulded with a sintered nozzle has to be screwed onto a supplied steel nipple, which previously has to be welded on the outside of the silo, bin or weigh hopper cone. Subsequently it will be necessary the connection to a compressed air supply.
There are two aerator nozzles types: U025 and U060. They have diameters of ø1" and ø2" (ø25mm and ø60mm) and avoid bridges and holes formation inside the container. They are equipped with a pneumatic circuit and have a continuous working system, the temperatures within which they can work range from -20 ° C to 80 ° C and the U025 nozzle is formed by a carbon steel ring, by a sintered filter made of brass and a UV resistant nylon body. The other, U060, has a carbon steel ring, a sintered PE filter, a UV resistant nylon body.
The U025 and U060 fluidizing nozzles are used with fine powdery materials at operating pressures of 0.2 Bar considering the smaller nozzles and 1 Bar for the larger ones. In addition, the compressed air supplied to the nozzles needs special features: it must be clean, free from slag that could damage the solenoid valves, dehumidified and unlubricated. 
Our kits consist of two different boxes, one for the U025 and one for the U060 aerator nozzles, with 10 pieces inside.