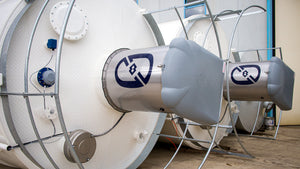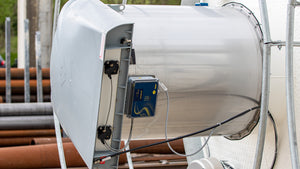 Silo Venting Filter
Silotop is a dust collector for venting pneumatically filled silos and has a cylindrical structure. Its stainless-steel casing contains vertically mounted PolyPleat elements made from nanofiber filter media. The compressed air cleaning system is integrated into the weather protection cover. The air cleaning system entirely integrated in the cover is made of a compressed air tank and built-in aluminium solenoid valves.
Dust separated from the air, due to the special PolyPleat filter elements, drops back into the silo after an integrated automatic reverse air jet cleaning system, placed in the weather protection cover, has removed it from the filter elements. The main filter function is to cause the flowing out of the air during silo filling, intercepting at the same time the dust particles and preventing their dispersal in the environment, avoiding air pollution. The filter elements have a parallelepiped-shape, the filter media is of the non-woven pleated fabric and the filter surface has two possible sizes: 14m² or 24.5m². The difference between the two sizes is only in the number of filter elements inside the filter body, in fact the structure remains identical for the two sizes.
The environmental temperature within the filter can work properly is between -20°C and 40°C and it is powered 24-260 Ac-Dc. The operation of the filter requires permanent connection to a compressed air circuit that must be clean, de-humidified and oil-free.