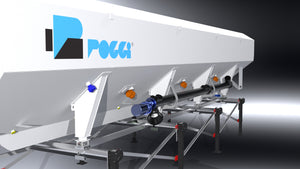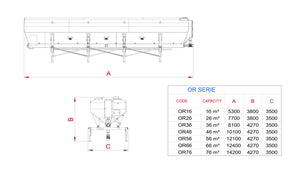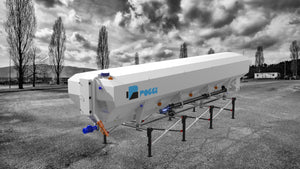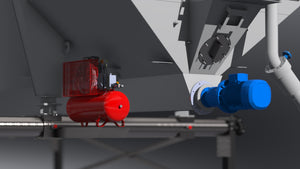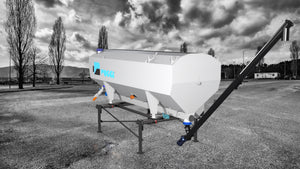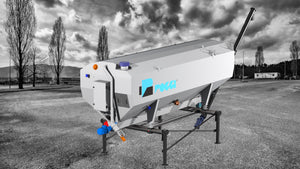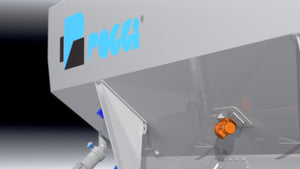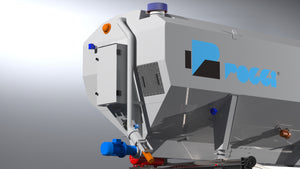 Horizontal Silos for truck
 The "OR" series horizontal silos are specific for truck transport. They are divided into 7 models (OR16-OR26-OR36-OR46-OR56-OR66-OR76), each with different capacities and sizes to adapt to every need. Installation times and dismantling are very fast, ranging from 10 to 30 minutes, and no lifting equipment is required thanks to the telescopic legs. 

This series consists of: 
Supporting structure with telescopic legs 
Pressure control valve 

Loading hose with load safety system 

MIN / MAX level indicators 

Poggi patented internal filter with dirt presence sensor 

Control panel with acoustic and visual emergency signals 

Centralized air system panel 

Service compressor 

Vibrators and vibrofluidifiers 

Horizontal extractor screw ø200 mm 

DN 300 butterfly valve located at the extractor screw discharge 

Inclined auger ø219x6000 mm 

Manhole for inspection

Pluses and fields of application

The "OR" and "ORC" horizontal series silos are suitable for construction sites and mobile plants and are designed to contain dust, ash and granules. The "OR" series is specific for truck transport while the "ORC" series is specific for container transport. 
Both are set up directly on the workplace and thanks to the telescopic legs, there is no need for civil works or other equipment to position the silos and, in addition, no permit is required for installation. With these peculiarities it is possible to avoid further work and therefore have a minimal environmental impact. At the end of the work, disassembly is very quick.
The silos are made of both iron and stainless steel, to adapt to the multiple work sectors in which they can be used (for example: ecology, industrial chemistry and recycling). To complete the silos, are available high quality accessories and international availability, such as valves, filters, augers, sensors and any accessory necessary to satisfy our customer. Moreover, the customer can choose the color he prefers. 
In both OR and ORC Horizontal Silos the screw conveyor is included so as to complete the machinery. Our customer can easily choose the combination that in the best way meets his needs. In effect, he can combine the silos capacity with the screw conveyor's length and diameter. The Screw conveyor's model is the ES type and is usually used for cement extraction and transport of similar materials in concrete batching plants, but also in other building materials processing plants. It is easy to move and fit on site. 

This is an ex works price. Shipping charges are excluded from the moment the products leave the factory.