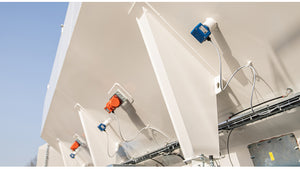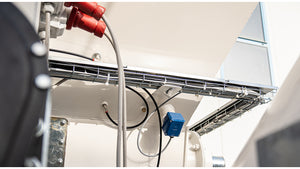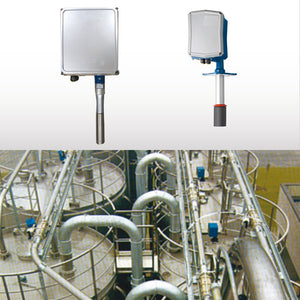 Level Indicators
Bin Level Indicator: ILT 
The device is used for material level monitoring in all types of containers and silos, thanks to the electric signalling by rotary action. It is used with all powdery and granular bulk materials that do not show a strong propensity to form crusts or deposits. There are many fields of application: industry of building materials for lime, Styrofoam, moulding sand. Food industry for milk powder, flour and salt. Plastic industries for plastic granules, timber industry, chemical industry, mechanical engineering. 
Components: cover, frame, shaft support, paddle, shaft. 
Electrical connections: it is necessary to take note of the power supply indicated on the legend plate. 
Checking the rotation and switching mode: if the blade is not covered by the material, the indicator shaft sends pulses every 20 seconds. In case of fault, the pulses are absent. After 30 seconds the alarm relay opens. The circuit opens in case of: supply failures, problem with connection or on power cables, indicator defects. Mounting may be horizontal, vertical or oblique, the Bin Level Indicator is placed on the right side and the screwed cable gland shows downwards. Before carrying out any type of work on the machine stop it and disconnect it from all electric supply sources. 

Continuous Level Measurement: ILS  
The ILS is an electro-mechanic level measuring instrument that allows continuous measuring of level heights or level volumes in hoppers, silos or tanks. It is used for monitoring the level in applications like: powders, small grain materials in bulk and large grain materials in bulk. The ILS is insensitive to di-electricity and conductivity of the bulk material, dust inside the silo and changes in moisture of the bulk material. 
The ILS is installed on top of the silo and a sensor weight is lowered into the silo. The sensor weight is fitted at the end of a measuring rope/tape. The sensor touches the bulk material only at the surface and has a high tech measurement, easy to understand and it is very accurate, in fact it has a microprocessor-controlled measurement with intelligent supervision. A comparison between the distance of the downward moving weight and the distance of upward moving weight is carried out, so that to obtain the right level of the bulk material inside the silo.
ILS systems can be used in several fields of application , such as chemical industry, construction industry, plastics industries and food industry. The unit is separated into two independent airlocks: rope and electronic. Only the rope airlock is in contact with the inside of the silo during the process. The measurement begins with the external start signal or internal automatic signal given by a timer, which starts the measurement within the predefined time. The ILS level indicator does not emit any noise.