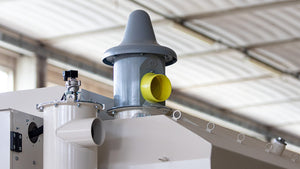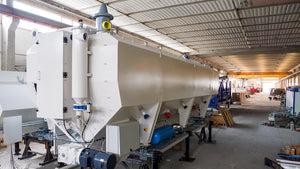 Pressure Relief Valve
The single unified model VHS-C Pressure Relief Valve has a diameter of 273 mm, consist of a cylindrically shaped structure, in carbon steel or stainless steel, a flanged connection spigot to the silo with an exhaust outlet elbow in connection with a duct leading to the centralized suction system, an elastic membrane immediately able to re-establish the ordinary working conditions in plants, a counterweight kit, which is never in contact with dust, to keep the valve closed under normal conditions and a weather protection cover. 
The VHS-C Pressure Relief Valve is a step forward than the VCP valve, because the first one can re-establish pressure balance in real time, on the other hand the second one could re-establish pressure balance but not immediately due to the moment of inertia of the springs. In the VHS-C Pressure Relief Valve, thanks to an interplay of pressure on different surface areas on both sides of a membrane fitted inside the valve casing, it is possible to achieve the perfect pressure balance. In case of excess pressure, this interaction gives the possibility to the air from inside the silo to flow back into the atmosphere. Instead, in event of suction pressure the air penetrates from the atmosphere into the silo.
Thanks to conveyed flow and reduced emissions, the VHS-C Pressure Relief Valve has a high safety level for people and environment and it has a self-cleaning conveying pipe