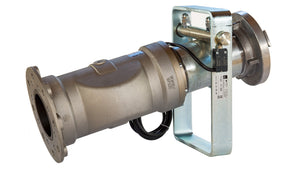 Kit for pipe connection to tanker
KAT 100 
The KAT is used on silo loading lines. It is a fitting assembly positioned between the pinch valve and the pipe connection flange of the tanker truck. It includes a microswitch and consists of a threaded connection, a mechanical limit switch, a handle and a Storz connection. There is a material inlet hose connection with safety flange.
The component must be installed at the entrance to the silo loading pipe by means of flanging. The operating temperature ranges from -25° to 70°C, the electronic connection cable is 2x1.5mm² and has an SPDT power supply. The energy consumption is 0.5 W. For the coupling of the material filling pipe to the safety flange, the silo's loading will be allowed until an alarm condition occurs. The filling session ends when the truck is disconnected from the KAT. The microswitch changes status when the truck hose is connected. This system is not designed to work in dangerous conditions and with harmful materials. 
VM 100 
The VM pinch valve is used to close the silo filling pipe. It stops air and dust flow that enters into the silo during the filling phase at any time. Pneumatic valves usually open and close the pipe by means of air pressure. The mechanical valves are usually closed by means of a spring kit and opened by air pressure.
During the loading phase, any alarm condition will result in the immediate closure of the pinch valve (direct or pulsed). When the material reaches the extra level indicator, the pinch valve closes immediately and the system alarm is activated. Overfilling is not possible. The operating temperature extends from -10 ° to 60 °C, its power supply is SPDT. The body is made of aluminium and the sleeve is reinforced with fibrous grafts.