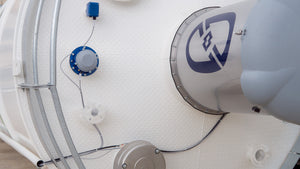 IPM Mechanical pressure indicator
The Silo Safety System avoids damages to the silo or its system components during loading due to the risks associated with the silo's overload or overpressure. The Silo Safety System avoids such risks thus preventing damages to the silo, the filter and other accessories while at the same time decreasing polluting emissions into the atmosphere.
An essential component is the mechanical pressure indicator. It is installed on the silo and it is used to indicate when the critical pressure is exceeded. The indicator sends information to the control board related to any exceeding of the calibration pressure of the device itself. With a load in progress, the overpressure alarm will automatically and immediately close the pinch valve. When there is no load, the overpressure alarm will not allow it.
The operating temperature ranges from -25° to 80°C, the electrical connection cable is 2x15mm². It is made up of a membrane in material stress resistant and to thermal excursion and is self-cleaning.