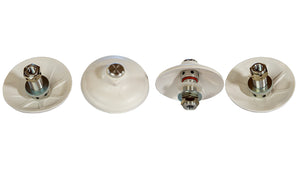 Vibro Aerator VB
The vibro-aerator is usually installed in silos, hoppers and pipes to help the flow of fine, dry and granular powders, so as to avoid holes and bridges formation inside the container. It has a high efficiency design, in fact it is formed by a pneumatic circuit, filter and pressure regulator, it has a nylon body with a steel ring.
The vibro-aerators combine the material aeration at pressures up to 6 Bar with a slight vibration of the container wall. Compressed air enters into the material directly through a vibro-aerator part made in silicone adhering to the silo internal wall. The vibration intensity is adjusted through the operating pressure between 2 and 6 Bar. Due to the intermittent operation and the air jet maximum duration of 5 seconds, the air consumption is extremely low, there is extra attention in order to protect the environment and satisfies a wide range of working temperatures.
The vibro-aerator has a self-cleaning system, it is anti-abrasive and does not need any maintenance. Through a kit for external assembly it is possible to make the VB vibro-aerator interchangeable with the fluidization pads commonly used in mobile concrete mixing plants. 
Our kits consist of a box with 4 Vibro Aerators inside.