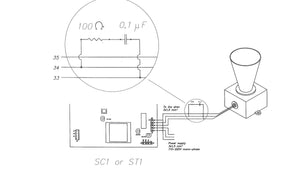 Audible alarm
The Silo Safety System avoids damages to the silo or its components during loading due to the risks associated with the silo's overload or overpressure. The Silo Safety System avoids such risks thus preventing damages to the silo, the filter and other accessories while at the same time decreasing polluting emissions into the atmosphere.
One of the components that helps ensure the system safety is the siren, which provides an acoustic signal in case of alarm. It has an electrical power supply that can be 24 Vac or 24 Vdc. The siren must be suitable for the power supply given by the control board. 
The siren can work in a range of temperatures going from -40° to 40 °C.
The sound level is 98 db (A). The electrical connection cable is 3G1.5, electric consumption: 60 VA, power consumption: 440W, the "ground" contact is common for powering the siren and the control board.
In the event of fault, assistance from qualified personnel is required, then suitable hearing protections are requested due to the sound power.